My Christian background has served me well and given me an open mind to different shades of truth and emphasis in the church of Christ today. While I am not one to swallow doctrines hook, line and sinker, I am often open to learn from others who may not have had a similar spiritual upbringing as mine.
It is also my habit to consistently review my beliefs and convictions about scripture and challenge my positions, so as to reaffirm their validity or change them. After all, illumination is in degrees. I am at times so blessed at how early in my Christian journey I have understood some truths that many are just catching up with and at other times I am ashamed of certain things I previously taught in the light of better illumination.
"Your word is a lamp to my feet And a light to my path." Psalms 119:105 NKJV
"And so we have the prophetic word confirmed, which you do well to heed as a light that shines in a dark place, until the day dawns and the morning star rises in your hearts;" II Peter 1:19 NKJV
It is a certainty that we will not always agree about the meanings of various portions of scripture on this side of eternity, but we sure have a few things we can unite around. Lots of our differences and divisions are unnecessary. My Christian journey through various 'moves' of God makes me comfortable with much of Evangelical Christianity today.
Grandpa Reuben who was the first to turn from idolatry to Christianity in our ancestry was converted by SIM Missionaries who came to Africa from Canada. He served them for many years, becoming a mason who helped in building several church buildings, schools and a leprosarium. SIM released the churches planted in West Africa that later became the Evangelical Churches of West Africa.
The lack of a branch in Mokwa, Nigeria where I was initially raised led to our family worshipping at the local United Missionary Church of Africa, which was also a product of Canadian missionaries from the same church background as the SIM missionaries. Hence, they had the same doctrine. On relocation to Ilorin, Nigeria in 1977, our family worshipped at a local ECWA church.
Through the influence of an Uncle, I began to fellowship regularly among Pentecostals in 1985 having been baptized in the Holy Ghost and also embracing speaking in tongues. The Holiness message propagated by puritans and the early Pentecostals was most popularly preached with REPENTANCE as the central objective of every sermon. In fact, most sermons were intended to create penitence expressed through many tears and sorrows.
However, the Charismatic Movement with greater emphasis on the gifts of the spirit and within it the 'Word of Faith' teachings of Kenneth E Hagin, Kenneth Copeland, Jerry Savelle, Fred Price and others were changing the negative tone of the Holiness crowd to building confidence in God for healing, prosperity, righteousness consciousness and other new creation realities.
Under the primary tutelage of Rev George Adegboye, conferences of Dr David Oyedepo and others, I embraced the message which was life changing for me. I owe so much to those teachings and so does most of the Pentecostal/Charismatic body of the Nigerian Christian Church. It brought me hope in academic failure, abject poverty and poor health. I can testify of the life transforming effect of the message on my life.
The Apostolic/Prophetic movement with strong emphasis on the 'Kingdom Message' emerged later to show us that the 'born again' emphasis of the church was wrong. The Kingdom was the message and not salvation nor prosperity, which had taken the forefront of the emphasis of the 'Word of Faith'.
The Kingdom message gained relative influence but it was not as strong as the 'Faith' message due to the approach of the harbingers of it. They condemned the 'Word of Faith' and couldn't influence the body effectively.
Myles Munroe's works on the message became enlightening for me, though I shuddered from being labeled a 'Kingdom Preacher'. For me, I saw the need to balance what was becoming an extreme emphasis on materialism back to the priority of Kingdom purpose but not to throw away the 'Word of Faith'.
God in His wisdom was laying another layer of truth on the body of revealed knowledge and it was unnecessary to discard previous light in totality but to simply bring balance without condemning or ostracizing others. The attendant arrogance when we seek to influence the church with fresh revelation weakens influence and cripples our objectives. Contrast that attitude to that of Aquila and Priscilla.
"Now a certain Jew named Apollos, born at Alexandria, an eloquent man and mighty in the Scriptures, came to Ephesus. This man had been instructed in the way of the Lord; and being fervent in spirit, he spoke and taught accurately the things of the Lord, though he knew only the baptism of John. So he began to speak boldly in the synagogue. When Aquila and Priscilla heard him, they took him aside and explained to him the way of God more accurately." Acts 18:24-26 NKJV
And now comes the latest, 'Grace'. As soon as I began to listen to Joseph Prince, he sounded like a breadth of fresh air and I love most of what he teaches. I have had to struggle with some parts of his messages that contradict teachings of Kenneth Hagin whose materials I have 'devoured' over the years and who for me has been the most doctrinally balanced voice I have known.
I have gone over those teachings and I must confess, I have pitched my tent mostly with Brother Hagin but continue to be blessed by the rich ministry of Joseph Prince and particularly that of Andrew Wommack, who teaches 'Grace' with a lot of maturity. Online audio messages by Martin Loyd Jones have enlightened me a great deal and I am still learning.
Doubtless, my theology has been adjusted but like other fresh revelations, I have been careful not to allow man made extremities to lay hold of me (at least in my view), but rather, I have sought the fine line of balance. I am however unlike those who have condemned the baby with the bath water.
Friends, what is balance or not is of course subjective. I am speaking from the view point of my understanding of scriptures, which is certainly not perfect. I am daily enlightened by the Word of God and do believe that while God enlightens people about various subjects at various times, there is only ONE GOSPEL of Jesus Christ.
 "I marvel that you are turning away so soon from Him who called you in the grace of Christ, to a different gospel," Galatians 1:6 NKJV
However, this one gospel though very simple can be viewed from all the perspectives that are being emphasized by different segments and movements in the church of Jesus Christ today. It's like a mountain view which determines our perception based on the side from which we view it. Only one gospel of Jesus Christ but described variously by these views in Scripture and has now become a basis for division by men.
The unity of the views highlighted in this article are beautifully presented in Paul's farewell speech to the church at Ephesus. Kindly read Acts 20, and consider the following few verses spoken in one speech. They are descriptions of the same gospel preached by Paul the Apostle.
Paul described the message he preached as REPENTANCE toward God and FAITH toward our Lord Jesus Christ.
"how I kept back nothing that was helpful, but proclaimed it to you, and taught you publicly and from house to house, testifying to Jews, and also to Greeks, repentance toward God and faith toward our Lord Jesus Christ." Acts 20:20-21 NKJV
He described the same message as the gospel of the GRACE of God.
"But none of these things move me; nor do I count my life dear to myself, so that I may finish my race with joy, and the ministry which I received from the Lord Jesus, to testify to the gospel of the grace of God." Acts 20:24 NKJV
A verse after that, he called it preaching 'THE KINGDOM' of God.
"And indeed, now I know that you all, among whom I have gone preaching the kingdom of God, will see my face no more." Acts 20:25 NKJV
The above scriptures which can be supported by lots of scriptures do show that there is only ONE gospel, described variously. It is so clear that Paul referred to the same message in different terms, yet we have successfully made different messages out of them and divided ourselves with what is essentially only ONE message.
We have even gone to the extent of castigating and condemning one another. If there are fundamental differences in beliefs from one camp to the other, then we must have successfully diluted the truth with error.
This message of Christ is described as 'preaching of the cross', 'gospel of Christ', 'Word of Reconciliation' etc in other places. We have successfully made different doctrines out of them and divided the body of Christ with them.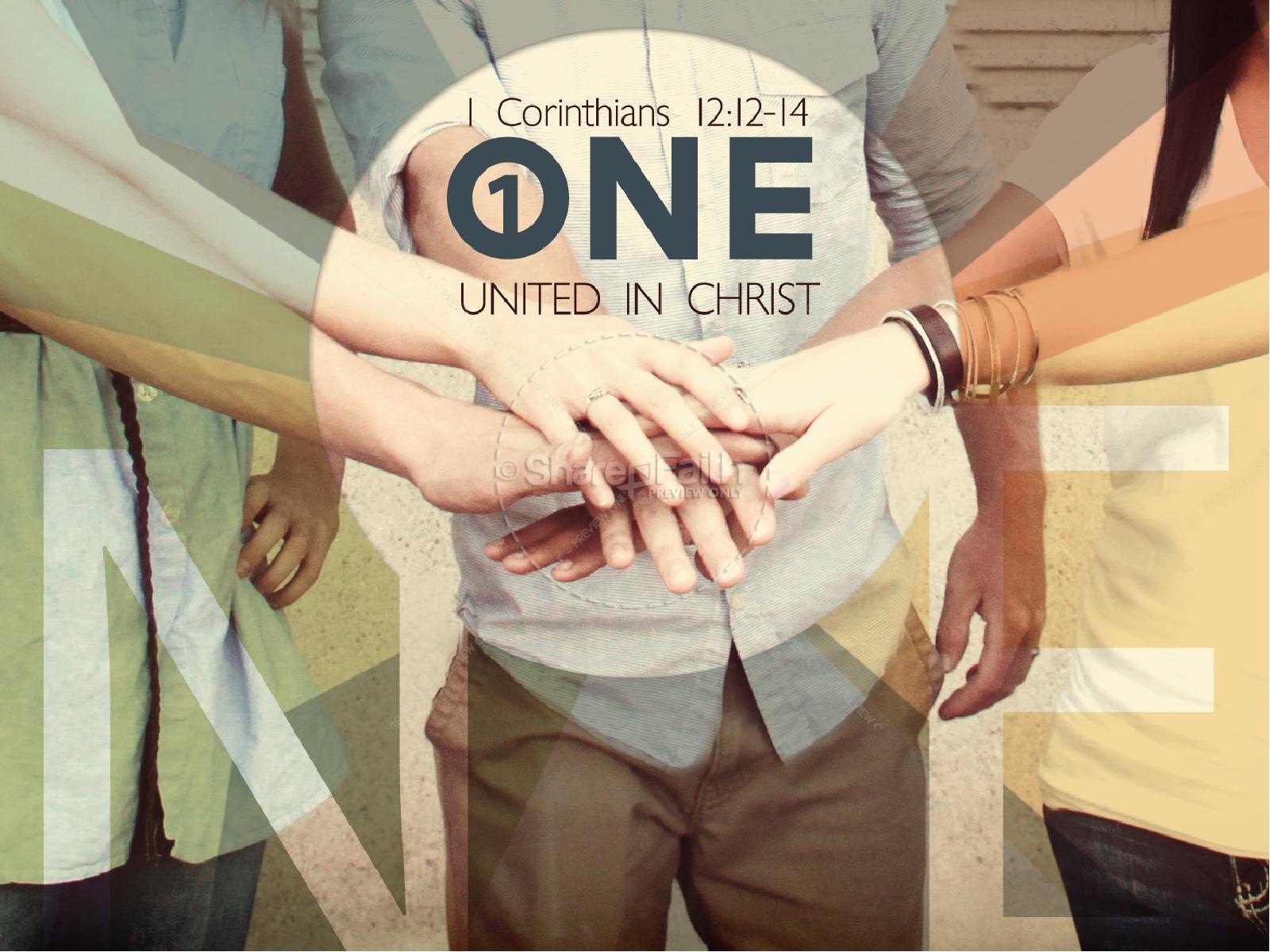 I will, in my follow up articles, seek to examine each of the various descriptions of the ONE GOSPEL of Jesus Christ and attempt to find the line of balance to the best of my limited understanding, hoping that as we read, we will drop our divisions and allow ourselves to unite around the person of Jesus Christ regardless of the various degrees of light we have.
It is my hope that I can help us heal from our allergies to one another's 'doctrine' and learn something from one another. I hope we can drop our negative labeling of others, hatred for others and focus on the task of winning the lost to Christ and of growing up spiritually.